•
•
•
•

Guerilla Radio LIVE - Killing in the Name of
The Rage tribute project is one of the most ruthless ass-kicking bands I've ever played with. The shows are electrifying and the crowds are always amazing.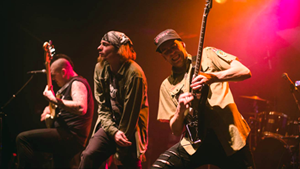 Featuring the insane, blistering chops of Funk-V alumni Josh Boudreau and Jud Mackay, as well as Joe Faraguna one of the craziest bassists I've ever met (and I've met a lot of 'em!).
I am sincerly honoured to play these iconic rebel anthems with such a fantastic crew of badass motherfuckers.
Filmed by Adam Lee at VictoriaMusicScene.com